In my Pintra review learn how to get traffic from Pinterest on Autopilot.
Don't Forget: you get the bonuses on this page if you get Pintra via my affiliate link.
[waiting name="Downtown"]
Now lets delve into the course and the software to find out what it's all about.
What I like About Pintra
I was really excited to get my hands on Pintra because I already get Pinterest traffic and I wanted to see what Demetris D-Papa (Product Creator) could bring to the table with Pintra.
Not only do you get video training on how to set up and use Pintra. You also get real case studies showing you actual proof that Pintra works!
You get all of this:
9 Pintra Set-Up & Training Videos
7 Pintra Case Study Videos
The Pintra Cloud Based Software
The Pintra Plugin
The Pintra Chrome Extension
On top of all that, you get my exclusive 'Pinterest To Pintra' bonus bundle. More on that below…
Where Pintra Could Be Better
Yes and yes, Pintra delivers on it's promises but I wished they gave more explanation on how Pinterest works and how to get traffic from Pinterest faster.
That's what you get from my Pinterest to Pintra bonus bundle. You get all of the tactics, strategies and free tools I use to dominate the Pinterest rankings for targeted traffic.
Exclusive Pintra Bonuses
You'll be hard pressed to find another internet marketer that knows Pinterest better than I do. Make sure you get my bonuses along with Pintra.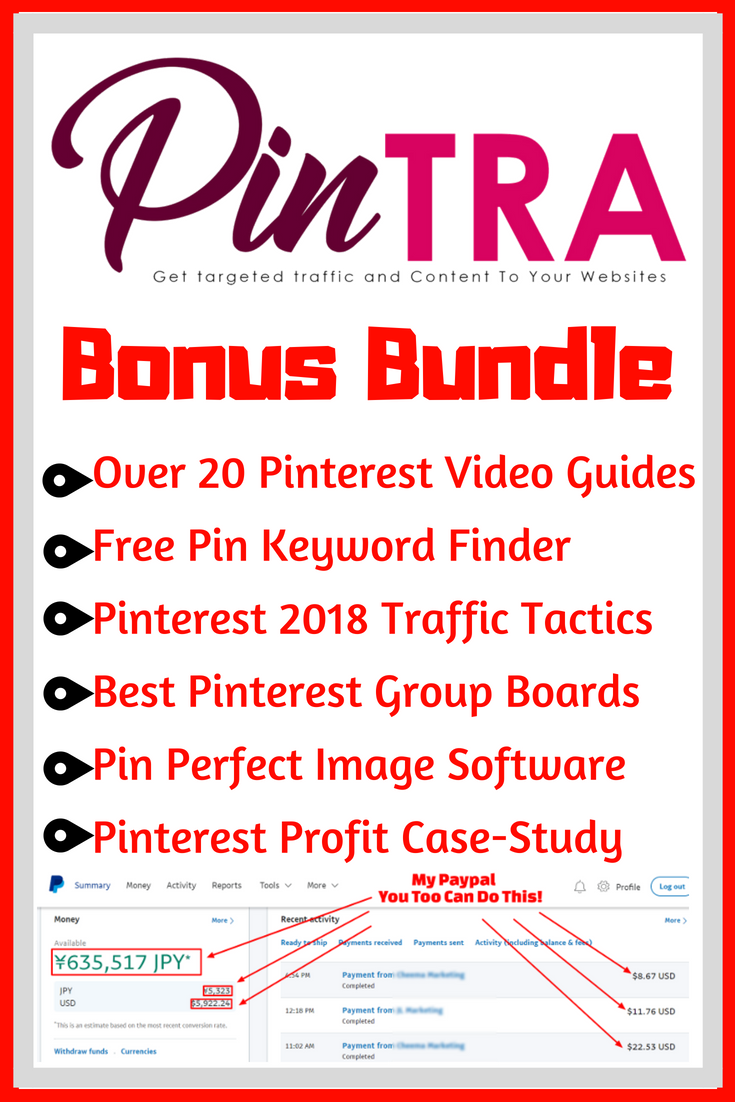 The price for Pintra will quickly go up, make sure you get a copy plus my bonuses today.
The Pintra Upgrades You Should Think About
Here are the Pintra upgrades you'll see after purchase.
Upgrade 1: Pintra Scheduler – You can save your pins to be pinned at certain dates and times ($32 value).
Upgrade 2: Pintra Expansion "Follow/Unfollow" – It gets you more followers and unfollows those who don't reciprocate ($37 value).
Upgrade 3: Pintra ROBO (repin) – It automates the pinning process for you ($27 value).
Upgrade 4: Pintra Fusion – Learn how to use Pintra in the Internet Marketing niche for leads and sales ($97 value).
I recommend all of them because it's a one-time price. Most auto-pinners and Pinterest schedulers require monthly costs.
With these upgrades it's a one time cost, that's a steal!
Pintra review & Verdict
I'm impressed with Pintra it's a solid piece of software with no recurring fees. That's super rare for something like this.
Within the course, Demetris demonstrated that Pintra brings in high quality traffic straight from Pinterest.
I use the Tailwind app but I gotta pay through the nose for that, maybe it's time for a change. Let me know what you think about my Pintra review in the comments section below.